---
Welcome to Metro Powder Coating
Powder coating is the fastest growing technology segment in the finishing industry. The quality, durability and affordability of today's powder coating finishes make this the process of choice for world-class companies. At Metro Powder Coating, a high quality finish is the ultimate goal for our entire staff. It is our intention to achieve the highest level of performance by acting as an extension of our customer's manufacturing process."
Metro Powder is the leader in the Washington DC area for applying custom finishes. Powder Coating is a type of coating that is applied as a free-flowing, dry powder. The main difference between a conventional liquid paint and a powder coating is that the powder coating does not require a solvent to keep the binder and filler parts in a liquid suspension form.  This ma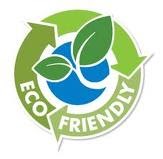 kes powder coating the most environmentally friendly painting process available.
The coating is applied electrostatically and is then cured under heat to allow it to flow and form a durable "skin". It is used to create a hard finish that is over 10x tougher than conventional paint. Powder coating is mainly used for coating of metals but recent advancements in the technology have added substrates such as glass and wood as suitable for applying this type of finish process. There are literally THOUSANDS of color options available to the consumer. From standard RAL colors to the most elaborate candy and translucent colors, we can find a color that you will love.
Media Blasting Services
It's important to consider that your paint job is only as good as the surface preparation of the metal being painted. Media blasting is a fast, affordable and safe way completely strip paint, bondo, grime and most importantly, rust from your metal parts in order to provide a clean palette for coating.  Media Blasting is an excellent may to remove paint, rust and oxidation without damaging the surface of the metal. We use Glass Beads, Aluminum Oxide and Black Beauty (slag coal) in our enclosed cabinets. These abrasives have been proven to not only restore the metal to its bare metal, it leaves a surface that is excellent for our powder coating finished to adhere to. Below is a picture of a truck wheel we recently blasted only half.   Take a LOOK!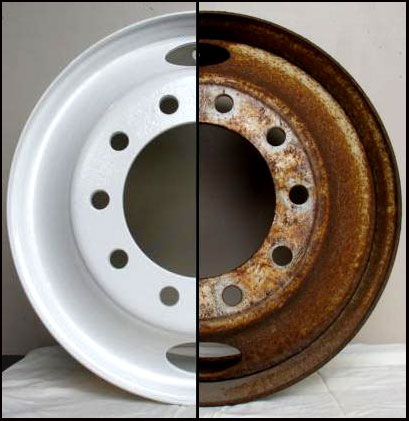 Coating Removal
Each piece brought to us is prepared through chemical stripping, degreasing, or sandblasting to ensure an absolutely clean surface ready for coating. Our stripping process will take your metal to its original manufactured state no matter how old.
The new coating can be evenly applied in a powder form and then baked. Resulting in a hard, smooth, paint-like finish that will bend with the metal if dented or struck.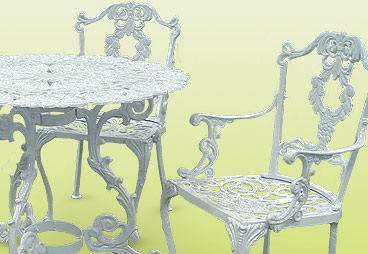 Call us with your next project or idea – 202-709-2419.   We work with designers, project manager and engineers all the time.